27 December 2005

New articles have been added to the media archive.

1 December 2005
The girls have started the indoor season and as usually we spend a lot of time practising reball in Skövde with Joy/Overdose. But this year we also have the young guys in Fat Boy's Charms. They shoot pink shockers (of course) and are coached by Sebban and Louise. :-)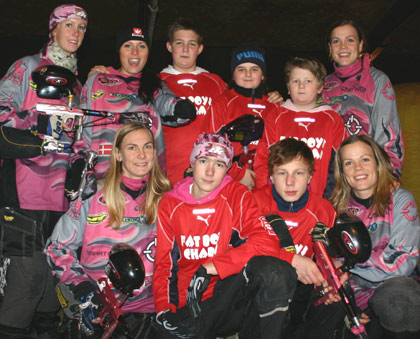 16 November 2005
Pimp your PC with Pink! Download our new wallpaper.

30 October 2005
Just Married!
Sorry, guys, it's too late!
Our beautiful Louise got married on the 19:th of October! And what a catch she did; Sebastian (Joy Division) is now her lawfull wedded husband. Congratulations from all of us! :-)
The ceremony was held in secret with their family present. Both have now changed their last name to Samuelsson.

16 October 2005
When attending an event of the Millennium Series, Sunday night is the time to party! Team Bullets has sent us some pictures, check out our gallery!

11 October 2005
The total scores for the Millennium Series have been sumed up and Charms ended up on 6:th place. This season has for sure been our most succesful one.

3 October 2005
FLC came in third place total in the Northern European Series ( NES) in division 1.
At the Swedish Hype we took third place.
Now we're off to Madrid. The last leg of the Millennium Series. :-)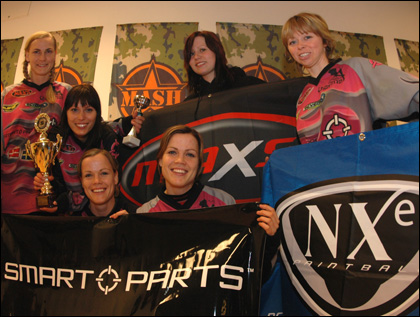 Photo: Jens Lovejus, R60 Design.

21 September 2005
Next event for us will be the final leg of NES, Swedish Hype, 1-2 October. The event is held just outside the entrance of the new amusement park Fame World in Skara. We hope to see you there! :-)

16 September 2005
The second place at Campaign Cup has brought us up to the fourth place overall in the Millennium Series.
Click here to read the Campaign Cup event report.
12 September 2005
FLC finished on second place at Campaign Cup! :-)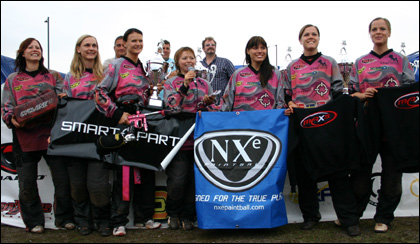 22 August 2005
We have played the Norwegian Championships. We ended up in seventh place in the Pro division. Click here to read the event report.
8 August 2005
Happy Birthday to Amber Douthit on her sixteenth birthday!
Good luck and we hope to see you on the field in the future. :-)
Her father got her a jersey and a barrelbag in birthday present.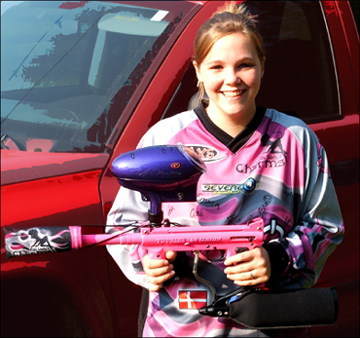 4 August 2005
We've got mail! Erik Chateau has been very kind to send us excellent pictures from the 7 Man World Cup in Paris. Check out our new gallery!
2 August 2005
The girls had a really nice time at the Mash Arena this Saturday. Paintball practise and then jacuzzi, sauna, indoor beach, beer and Mongolian BBQ...everything a girl can ask for... :-) Have a look at the new wallpaper.
1 August 2005
We played like godesses in Paris and lost only two games but that was enough to miss the finals. Read more in the event report.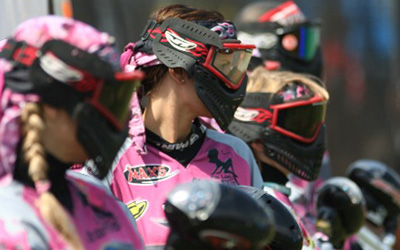 Photo: Eric Chateau.
28 June 2005
Flen Open was a hot tournament in many ways. The event report are now up. Event reports from DMA and NES2 in Helsningborg have also been added.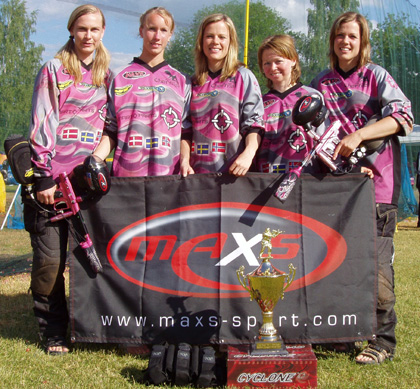 23 June 2005
FL Charms No 1!
After three legs of the Northern European Series the girls are now in the total lead.

Next leg is in Varberg, 13-14 August. Click here for more information.

20 June 2005
This weekend the third leg of the Northern European Series, Flen Open, was played. The girls played fantastic paintball and finished on 2nd place in division 1.
Lene played X-ball with Elite team Oslo Furious and she also did a great job.

16 June 2005
New gallery added. Thanx www.paintballphotography.com for the nice pictures :-)

14 June 2005
The gallery has been updated with a lot of new and old pictures. Check it out! :-)

13 June 2005
It's not a secret why FLC has improved their paintball skills.
Try shooting Reball!!



Read about FLC in the report from Maxs Masters 2005 in the latest issue of PGI Magazine. Click to see a preview

8 June 2005
Lost and found! The blond and beautiful Lene has re-joined the team.
Welcome back! :-)
FL Charms stuff for sale. Check out our new "for sale" page.

30 April 2005
FLC's event report from the Bitburg adventure is here.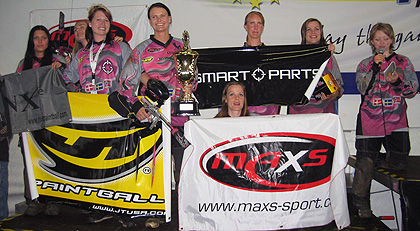 Photo: Niklas Agréus

25 April 2005
Respect, congraulations and hats off! FLC finished at third place in Max Masters.

23 April 2005

FLC keep on winning in Max Masters, this seasons first Millennium Series tournament. After two days of prelims, FLC are still unbeaten. Tomorrow the semi-finals begin.

22 April 2005

Today Max Masters got going in Bitburg, Germany. FLC got a flying start in the tournament with four wins out of four! So FLC will start on top of the scoreboard, before the second/last day of the prelims.

15 April 2005

Read the event report from NES # 1 (Stockholm- Sweden)
8 April 2005
Yeah, we know it's late. Just hold on, fresh wallpapers are on their way. Have another look at the old but still fresh ones, for now.



7 April 2005
Click here to see a trailer of the new BerlinHeat DVD. The film is shot during the Max European Indoor Masters.

2 April 2005
Huntington Beach - The fields were great and the ocean view was beautiful.
Click here for the event report.

16 March 2005
How about another one? Click here to get to the articles.

15 March 2005
Here's another Charms article from Nya Wermlands-Tidningen.

14 March 2005
A new article about Charms trip to the US of A has been added to the Articles section.
More articles on the subject are expected during this week.

10 March 2005
Charms is going to Huntington Beach! It's been three years since the whole team has attended an US event. Last time we tried the 10-man format at the Orlando World Cup. All the girls are really excited to finally play an NPPL event and most of all to play outdoors after months of hard indoor reball practice. :-)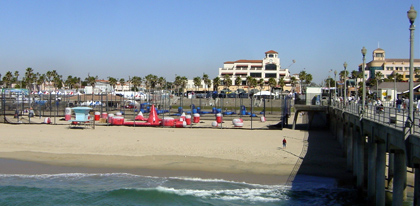 8 March 2005
We have recieved some great photos from our favourite photografer Eric Chateau. These are from Campaign Cup 2004. Click here!



17 February 2005
This months wallpaper: Kitty Kate and Mysterious Laura

11 January 2005
Yes, we will continue with our monthly wallpapers. January wallpaper is a bit late but as we say in Sweden "If you are waiting for something really good you can never wait too long". Click here to see the lovely Lolita Louise!

5 January 2005
New articles in the media archive! Click here!
News from 2004

If you want to read the news we published in 2004, click here!