3 May 2008

Welcome, UK!
Our beloved Paul "Spike" Martin gave an interview about the Basildon event coming up at the end of May - and we're in it! Have a read: Telegraph.co.uk

Visitors from the UK - please leave a message in our forum! Click here to go to the forum - and by the way: Hint for registration is Oslo!
26 April 2008

Happy birthday, Sofia and Cissi!
The twins are celebrating their big day in Uppsala. Leave them a message in our forum: Hint for registration is Oslo!
19 March 2008

God påske! - Happy Easter! - Glad påsk! - Frohe Ostern! - Pâques Heureux!
It's that time of year again: Northern Europe is still covered in snow, but the first event of the Millennium Series is coming up – and thus the Scandinavians migrate south. FLC and friends will spend their Easter holiday in indoor paintball sites near Berlin.

Wanna watch?
Want to watch the girls in action? Then drop by! On Saturday, the ladies of FLC will have friendly fights against Rebirth Berlin, Shooters and Excidio in Paintballworld from 16:00. Sunday evening and Monday morning things are heating up as the girls are facing the SPL teams Ugly Ducklins Odense, Allstars Cologne, Düsseldorf Reckless, Oslo Envy and fellow Div. 1 team Örebro Malicious.

Visit teams and fields:
> Allstars Cologne
> Paintballworld
> Paintball Dome
29 Feb 2008

Happy Leap Day!
Today's your day, girls! If that handsome hunk of yours haven't popped the question to you, today's your chance! ;) However, if you don't want to scare him off, enjoy the day by reading Ledz' interview with our captain!

Click here to get to the Planet Eclipse news section!


24 Feb 2008
FL Charms proudly presents their sponsors for 2008
Read all about it here!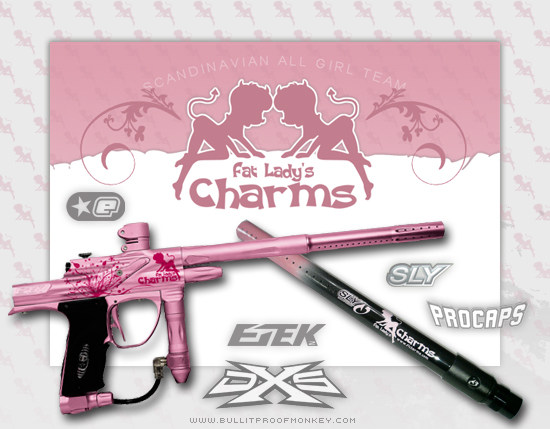 6 Feb 2008
HAPPY BIRTHDAY, FREDDIE!
Freddie was tricked down from the horseback and away from a promising carreer in showjumping and on to the field by her brother, the ever infamous Nick Brockdorff. She instantly clicked with our beloved sport and started her own all-girl team in Denmark – Miss Behave. Just as Charms, she experienced the problems every girls-only teams have – the loss of players and the lack of dedication. When she was offered a spot on her brother's team, she did not hesitate, and this lead her to playing Division 1 in the Millennium Series.

The ladies of Charms and Freddie have always had a good connection – a certain party-party-PARTY in Marseilles solidified this relationship ;-) And the result was Freddie's transfer to FL Charms at the beginning of the 2007 season. Freddie is not only a dedicated player, but also an advocate for player's rights. The Millennium board are facing a tough season with Freddie as chairperson for Fat Lady's Charms – and thus representing the team owner of our licence for Division 1.

Go to our forum and leave her a message. One of you will get our newest treat: Good luck Charms buttons! Click here to go to the forum! (Hint for registration: Oslo)
4 Feb 2008
Practise at MASH Paintball Arena
The season has definitely started! This weekend, FLC and friends were gathered to kick-start their first season playing the M7 format. We practised at MASH Paintball Arena, our faithful reball site sponsor through many years. Here's a picture of all the girls that came over for two days of drilling and x-ball matches. Thanks to Maharadjas and the MASH teams that gave us tough games, and to our coaches Sebban from Stockholm Joy and Nick from Ugly Ducklins!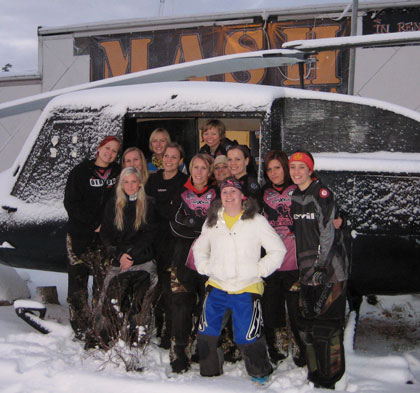 13 Jan 2008
FLC takes 2nd place in Division 1!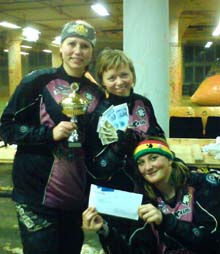 This weekends 3 man tournament in Halden, Norway proved the ladies of FLC fit for the 2008 season. Freddie from Denmark and Kristine and Kate from Norway rocked the field and took 2nd place after an exciting final, where only the body count decided 1st, 2nd and 3rd place!
11 Jan 2008
HAPPY BIRTHDAY, KATE!
Kate is the only remainder of the founders of FL Charms. She started playing in the spring of 2001 and co-founded the all-girl team Fat Lady's Charms together with Lene Græe and Heidi Tuft in September the same year. The first time she ever played on a supair field, she used a Spyder, that was in really bad shape. To even have a slight chance of hitting the opponents, she had to move upfield – and thus ended up as a front player. You'll most often see her on the snake side. As one of the good old Hardcore players (you still remember the legendary team Hardcore, right?) said, as he was coaching the FLCs: "Of course Kate is going to the snake - she's so short, she can probably stand up behind it!"

Kate will be celebrating her birthday tomorrow, playing a 3-Man tournament in Norway, together with Freddie and Kristine. Go to the forum if you want to leave a message to her! And there's a treat in it too: One of the congratulants will receive a free FLC barrel bag signed by Kate! Click here to go to the forum! (Hint for registration: Oslo)
6 Jan 2008
Pictures from the Boobcamp in Oslo is now available in our gallery. Enjoy! Click here to get to the gallery section!
5 Jan 2008
HAPPY NEW YEAR! Ten girls from seven different countries attended our Boobcamp the weekend before New Years Eve. We would like to thank them all for coming! Pictures from the camp will be up shortly.