Event Reports 2005
Event Report Millennium Series # 4 (Campaign Cup – Birmingham)

It couldn't have started better - Victory against our pro team Joy Division. In the prelims we won six games, one draw and one loss so that put us in the quarters as the third best team in our division. The teams we beat in the quarter finals were BE4, Wombles and Elysium. So now to the exciting part….
In the semi final we met the Russian team Squall. The Russians won the first game with five men alive; FL Charms won the second game with two girls alive. In the third game we decided to hold and end up with a draw because we were five girls against two Russians. We thought that we would win the game on body counts. Suddenly we found out that the bodies from all three games would be sum up! Surprise, surprise – we and the Russians had exactly the same body count. It was an odd situation and the refs' didn't know how to solve it. The head marshal had to look up the rules, the sponsors were furious. Anybody who could delay the results did it and the audience wondered what was going on.
Then it suddenly happened. A fourth game against the Russians!!! There was no question about it, we ran over the Russians in a few minutes and we won the game with six girls alive. In the finals we were up against team Blackout. We beat them in the prelims, but this time they were the better team and we finished in second place.
Anything can happen in paintball, that's why we love the game.
The site, fields, and food catering were really good, the scheduled on time, and except for some rain on Saturday it was perfect paintball weather. We have nothing to complain about and that´s a pretty good grade... :-)

Lot's of love to our sponsors: Smart Parts, Severe paint, Maxs sports, NXe, NES, Reball, Semcon, Bröderna Severin. A special thanks to Paul, Phil, and Jay. We couldn´t have done it without you this weekend. Thanks to our coaches Sebban (Joy Division) and Stian (Menace).
Event Report Norwegian Championship (Drammen, Norway)
FL Charms continue to prove themselves as one of the top teams, taking 7th place in the Pro division in the Norwegian 5 Man Paintball Championship.
The site was great, a soccer field with thick grass and locker rooms right next to it, the new netting system proved excellent and except for some rain, the atmosphere was great! For the first time in almost three years, the ladies were about to test their skills up against only Norwegian teams.
Day 1 in the Open division resulted in four wins and two losses, and ranked us in the Pro division for day 2. We were especially pleased with beating our former sworn enemies and practise partners, Invasion (former Fat Lady's Babies), in a convincing manner. Playing Pro on Sunday meant we didn't have to play until 2 pm and we even allowed us a short trip to the player's party held in one of the organizers' store. There were free beer, a lot of happy paintballers, a couple of kids rapped (and they were really good!), the police did a house call, there were no lights in the rest room, you know, the kind of party we're all used to…
Sunday started with a close game against Dead Last on the X-ball field. They hung the flag with a hit, but being on the backpack, they still got the win. Our second game was on the Chronic field against the favourites, a team with 3 players from Menace. To our, and definitely their, big surprise, we won the game astonishingly easy with three girls left. We seem to have a thing for winning against Pro teams! The last game, another against Invasion, we drew the shorter end and got 7th place in the Pro division.
In the break between the Amateur and Pro pool on Sunday afternoon, there were a 2-on-2 competition. Our captain, Kit Kate, and her boyfriend, Stian from Menace, were accidentally picked to form one of the 2-on-2 teams, and what do you know, they went on and won the whole thing! Another thing worth mentioning, Marcus "the Carcus" Nielsen was over to guest for a team, and they came in first…in the AMATEUR division!!! Hahaha, you bet we gave him a hard time about it :-D
We'd like to thank our sponsors: Smart Parts, Maxs Sport, Severe, Semcon, NXe and Bröderna Severin, for making it all possible, and we'd like to thank Oslo Paintball for helping us this weekend.
Event Report Millennium Series # 3 (7-man World Cup – Paris)
So close, only two losses away from the semi finals, yet the FLC girls could walk away from the Paris event with their heads held high!
Toulouse had moved to Paris this year, and we were looking forward to see if Laurent could live up to his previous achievements. The site was smack in the middle of Disney Village and our hotel was a 5-minute walk away, just the way we like it.
The fields were once again in our flavour – Except for the Tomahawk field. It seems like a curse is resting upon us when it comes to those green and black bunkers, we just can't read them right!
Anyway, starting out with a 3 (+7) score in our first match on Friday afternoon, we set the standard for this weekends games. We just kept winning game after game, until we qualified into the quarterfinals as number two with all 8 matches won. We were really excited to watch Lene in her first tournament after rejoining the team this spring. She did her job excellently in the back, just like before.
I'm sorry, Tigers, but we'll have to tell… Before going on the field against our Pro team, the London Tigers, we really tampered these guys psychologically. But I swear to God, someone put us up to it, please don't be angry with us! (And Phil, we won't tell it was you… Ooops!) End of story is: We got the flag with 5 girls alive and a little birdy told me this game was quite the eye-opener for someone regarding girls and paintball…
In the quarterfinals Sunday morning, our nerves took the best of us. We lost the first game (at the Tomahawk field, where else..) against BE 4. This was our first loss this weekend. The second game we lost against Paintoon after a good fight in the snake. In the third game we played like in the prelims and won. Nevertheless, our 9th place in Paris has pushed us up to the 7th place in the overall ranking, and we'll make sure we'll be better prepared the next time we're in the Sunday club!
Sunday night, we went to the Village for the Facefull players party and had a great time. On our way back home, I think we took care of half a dozen players, making sure they got back to their hotel safely, either by ambulance or taxi or via a quick stop at the hospital. Really, guys, what would you do without our tender loving care? ;-)
We really loved the new turf and the clean toilets with soap. Laurent and his crew did a great job except for the delayed scores. The restaurant prices in the Village ruined us, though, and we weren't too keen about all those little people running around in the hotel, but at least there was a pool and we got tanned!
Thanx to: Smart Parts, Maxs Sport, Severe paintballs, NXe, Reball, Semcon and Northern European Series (NES).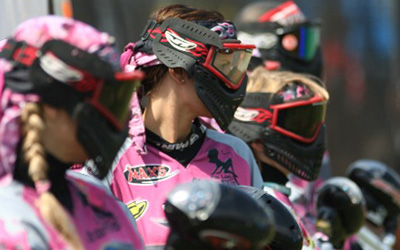 Photo: Eric Chateau
Event Report Nordic Series # 3 (Flen Open – Flen)

FL Charms finally made it to the podium at the Northern European Series! Second place at Flen Open.
As usually Flen Open is a really excellent organized tournament, these guys have a lot of experience and knows how to please even the most hard-to-please paintballer. During the field walking on Friday it started to rain and it rained a lot! Luckily all games in division 1 were played on the same field so we didn't have to spend much time walking the fields. On Saturday morning we woke up to the Swedish summer when it is at its best.
We started the prelims by winning our games and it early came clear to us that we had made the final cut. So we had time to try a lot o different break outs before the semi-finals began. This showed to be a winning strategy.
In the semi-final we had; Easy Targets, Maharadjas Grey, and Stockholm Stallions.
We started by winning against Maharadjas in a close game, then we lost fare and square against Easy Targets, and finished by winning against Stockholm Stallions.
In the final we had: DoW, Immortals, and Easy Targets.
We took revenge on Easy Targets and won easily with four girls left on the field. The two other games were really tight and the time ran out in both the game against Immortals and DoW.
The new scoring system gives 3 points for a victory and 1 for a draw so it was up to Easy Targets and DoW to decide which would win the tournament. If Easy won, Charms would be number 1, and if DoW won they would walk away with the big trophy. It was nervous to watch the game but DoW finished in style and won.
Plus to good food, great site with locker rooms and showers, and the nice weather.
Thanx to our sponsors; Smart Parts, Maxs sports, Severe paint, Northern European Series (NES), Semcon, and Bröderna Severin.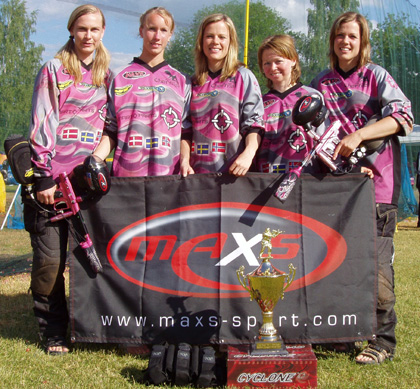 Event Report Millennium Series # 2 (DMA - Amsterdam)

After playing two great events in a row we had a strange tournament in Amsterdam. Our expectations were high and we just couldn't stand up to the pressure we had on ourselves.
We arrived at the site and were lost in the jungle of sup air bunkers. It is nice to try a different field layout from time to time but after looking at the Tomahawk field for almost two hours we still had no clue what to do. The bunkers stood in straight lines. We changed our strategy several times and the biggest mistake we made in this tournament was to pick a more defensive playing style than the aggressive one we normally use. The fields that were good though were the JT field, as usual, and the Millennium field. The only game we had on the Millennium field was against our favourite girl team Syndicatz. It is really creepy to face another girl team – but we showed that we still are the girl team to count on by winning the game and loosing only one of our own girls.
We had an almost identical draw as we had at Maxs Masters. There we won all eight games in the prelims. This time we won three games. But we actually had some really good games and one golden moment was when Cissi managed to win a game when she was alone against three players. She had ten paintballs left in the hopper and almost no air so she bunkered one of them and got really close to the other two before she took them both out. :-)
If you want to party Amsterdam is the right tournament to go to. Of course we had to celebrate Louise's birthday in a proper way so we headed to the city on Saturday night. We had so much fun although we were disappointed about our paintball results.
Minus to the expensive food, no COFFEE on the site, Tomahawk field and the fact that we only play eight games in the prelims. We want to play ten games like last year.
A big plus goes to the great paintball site with a nice restaurant and a little supermarket where you could by water, fruit, and food.
See you all in Paris !
Thanx to our sponsors: Maxs Sports, Smart Parts, Severe paint, Reball, NXe, Semcon, and the Northern European Series (NES).
Event Report NES # 2(Helsingborg – Sweden)
FL Charms takes 7:th place in the second part of the Northern European Series in Helsingborg. Once again we did an excellent Nordic tournament! The weather was amazing! The fields were really fun to play and the teams were the best in Scandinavia.
In the prelims we managed to win six out of eight games. The first day was a little to long since the afternoon pool was four hours delayed due to a missing air compressor and wrongly planned schedule. The organisers had planned that all eight games in the prelims should be played on the same day. When the clock was ten at night we had to stop playing and continue the next morning.

We entered the semi finals as the second best team and had to face Confusion, Frenzy and Bullets. The first game against Confusion was nothing to talk about. They won it fair and square. The second game was a flop! With four Charms players alive against two Frenzy players we made a huge mistake, misunderstanding in the communication and we lost it at the end in an one-on-one situation. The last game against Bullets was definitely our game. We ran over the Hungarian players like a tornado with all the Charms players alive.

So with totally four losses in the whole tournament we still didn't have enough points to get to the finals. Our aggressive playing style worked like a charm and next time we will win for sure!

Thanx to our sponsors Smart Parts, Maxs sports, Severe paint, Northern European Series (NES), Semcon, and Bröderna Severin.
Event Report Millennium Series # 1 (Maxs Masters- Bitburg, Germany)
<![if !supportLineBreakNewLine]>
<![endif]> We finally made it! FL Charms stepped onto the podium as the third best team at Maxs Masters in Bitburg, Germany – division 2.

The whole tournament was awesome. Good food, hotel at walking distance from the fields, great fields. Everything was running real smooth. The games on one field were even 25 minutes ahead of the schedule.

But what a start of the Millennium Series for us! Our shockers combined with Severe paint and Maxs support made us unstoppable. We got some funny comments after winning 8 out of 8 games in the prelims (including the pro team Cyclone). That comment was – Hey girls, just because you are wearing Maxs hoddies, it doesn't mean that you have to max all your games. =)

So for the first time in paintball history an all-girl team enters the semi finals as the number one team. In the semi finals we played against Dynamic Fusion, Unfair and Chromophobia. It started to feel like we were getting more and more challenge on the field. It was tight; we won two games and went to the semi-final ahead of team Unfair thanks to more body counts.

The first team we faced in the finals was our dear friend Eric's team: Les Agneaux. Best out of three games would mean a chance to win the tournament. Les Agneaux started by winning the first game but we wouldn't give them the victory that easily so we took the second. The third was really exciting as both teams had an aggressive playing style and anything could happen. Unfortunately for us Les Agneaux was the better team this time and they finally ended up as winner of Maxs Masters.

Loosing against Les Agneaux lead to the fight over third place. To make the best of the situation we refused to end up as the fourth team. We started by winning our fist game against the French team BE4 but lost the second game.

The audience was amazing! For the first time people were actually crying of happiness when we showed the paintball world that girls belong to this sport by winning our third game easily. Ending up on third place out of 53 teams isn't bad at all. =)

Congrats to Les Agneaux, Paintoon and BE4!

Thanx to our sponsors: Maxs Sports, Smart Parts, Severe paint, Reball, NXe, Semcon, and all the teams and audience that cheered for us. A special thanks goes to all Nordic teams for love and support.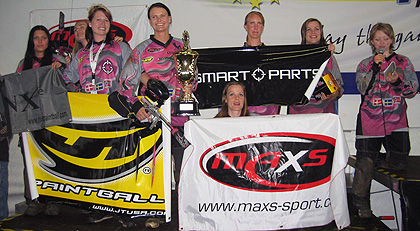 Photo: Niklas Agréus
Event Report NES # 1 (Stockholm- Sweden)

FL Charms takes 5:th place in the first part of the Northern European Series in Stockholm.

Our NES1 team is back from a terrific 5-man tournament. When we first saw our pool and understood that we were up against all the best division 1 teams in Scandinavia we set our goal to just have as much fun we could and to do our very best. Maybe that was our secret recipe for success.

We started the tournament by winning the first game and the second and the third……it was too easy – we were facing really good teams. Then it finally struck us – we are one of the best teams in Scandinavia! We won four out of five games the first day.

The most memorable game was the one against Team Bullets from Hungary. It felt good to beat the team that took the first place in this tournament.

The next day we found out that the organization had made a field change. We had to play on field 1 instead of field 2. Just our good luck. We got 20 minutes to check the field and then we had the first game….we won and we won and we got to the semi-finals with our 6 wins out of 8. Our semi-final pool was also a tough one. Bullets from Hungary, Urho from Finland and Maharadjas from Sweden.


Semi-finals


The first game against Urho was no problem, we won. The second game was the Maharadjas, this was the game that would change everything. We took the positions and soon we were five girls left against two of the Maharadjas. We thought we would play the finals. But we gave away our spot to Urho because one of the Maharadjas players made a superman move across the whole field and took three of the FL Charms players. They won the game and we had to win our third game against Bullets. We took them in the prelims and we could do it again. This game was very intense, aggressive and lots of blood and adrenaline pumping from both sides. We got one, they got one. Then they got one, and we got one…..at the end we had a 1-on-1 situation and damn it – they got it.

Bullets took the first place and Urho second – it could have been FL Charms. But we settled for the 5:th place and we are still so happy that words are not enough.

The teams shivered when they were up against us and they should because we were rocking this tournament, and on the field there was nothing charming about us!

Thanx to our sponsors Smart Parts, Maxs sports, Severe paint, NES, Semcon, Bröderna Severin, and a special thanks to Jon from Powertrip for teching our guns.
Event Report Huntington Beach 2005 (USA)
Our visit to the US got an unexpected start. We picked up our rental cars and as we left the parking we asked an American woman if she could recommend us a good restaurant nearby. She was really nice and pointed out the direction to a place called Wild Goose. Ok, just the name can make you suspicious but to the Wild Goose we went. To our surprise we found that the wild goose was a topless bar. Having all these naked women running around and dancing while we were eating was most definitely…interesting…especially our Norwegian bodyguard Viggo was satisfied by the choise of restaurant. ;-)

During our stay we also had time to be real tourists. We went to Universal studios – talk about being 12 years old again. =) We made our own FL Charms star on Hollywood Blvd, enjoyed the night life of San Diego, practised at Hollywood Sports and did a lot of shopping.

The tournament was awesome! Everything was perfect except the way we played the first day. Don't know if we can blame it on the fact that this was the first time we played outside this year. All winter we have just practised on small indoor fields. It took us three games to adjust and learn how the Americans play the game. When we realized this we ran over them completely the very next day, but it wasn't enough to make it to the finals.

The fields were great and the ocean view was beautiful. It was also great to watch the Swedish team, Joy Division, take the fifth place. Best of all was the fantastic American teams that talked to us during the tournament and the ones that have e-mailed us, We love ya all! :-)

A very special thought goes to the NXe staff – John, Ryan and all the NXe family that provide us with amazing gear. It was nice to finally meet you all. Severe paint of course – our special man Eric! Also to Max Sports and Smart Parts. A big hug to our tech Sean that put up with so many Scandinavian girls at the same time and finally Viggo – thanks for everything. It sounds like we won the Oscar or something but some how it feels like we did, cause this is something we will never forget.

We would love to play in the US soon again!
Hope to see you next weekend at the Northern European Series in Stockholm!
Love FL Charms