Weather: little rainy so it was perfect with an indoor tournament!

Absolutely the best indoor tournament ever! Maxs arrangement with the fields, the site, the organisation, the food and nice pizza guys, the marshals, everything was super, and we are not saying this because Maxs is our sponsor- Word!

We want to welcome María, our own FL Charms Baywatch babe, she is now an official team member.

And now to the games!!! First of all - the paint was a real killer paint combined with our pretty pink shockers. The first three games we totally dominated and won. The fourth game was going to be tough against pro team Arsenal. We decided to be offensive and our goal was to grab the flag before them (this was a centre flag tournament). Every eliminated Arsenal player was a win for us. And we did it! We took the centre flag before Arsenal! But after a huge discussion they got the points for the flag, hmmm. We took it - we know it, and they now it!

Yes, we did a good tournament. 16 teams out of 32 would go to the semi finals. With our 6 wins we went to the Sunday games. Finally! Generation X and Mercs were only a few points behind us, sorry guyz & girlz - you were great.

At the finals we were up against no 1 team Allstars, Consilium dei next and Mafia. We took the flag in two of the games, but we didn't manage to win our pool.

Especially thanx to Sebban "our coach" and king of the MEIM tournament.
Thanx to Joy Division for keeping us up the whole night during the Sunday party - we almost missed our flight. But thanks to Magued, who retuned our rental car, we got on the plane in time.
Sponsors - we love ya!
Maxs Sports, Smart Parts, Severe, JT, NXe, Bunkerking!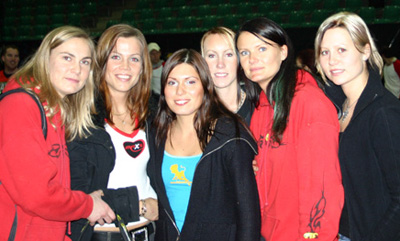 Event Report Millennium Series # 6 (Malaga Beach – Malaga)
Weather: weeee super nice, the best ever! Sun, the ocean, mmmmm…
Malaga beach, hope to see that tournament again and again and again!
All the fields were fun to play on, and what an ocean view!
The FL Charms didn't play as the original team this time.
Anja, Emma and Louise guest played for the German team; Instinct Kidz.
These guys were great and super sweet!
Bad luck continues to haunt us. We finished 13:th place and 12 went to the finals.
At Campaign we finished 17:th place and 16 went to the finals, and it was
the same thing the tournament before that…..Our first name Fat Lady's must bring some luck to the lucky Charms soon! But hey, we don't complain, the sun was shining, it was hot, and we had cold Sangria and San Miguel to cool us down with.
Don't miss out on the beach party next year! ;)
Greetings from Anja, Emma, Louise & the Instinct Kidz.
Click here to check out some cool pics from Malaga Beach.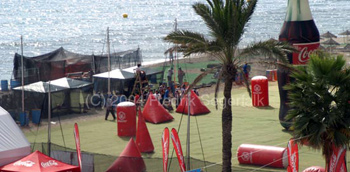 Photo: Fredrik Segerfalk

Event Report Millennium Series # 5 (Campaign Cup – London)
Weather: Nice! Perfect paintball weather this time.
Gosh, this tournament was fun! The FL Charms played like goddesses. Out of ten games
we won six and among those we beat was a South African team. The teams that we lost against were strong, but still we gave them a hard time. Don't know if it's bad luck, cause we always seem to lack a few points to reach the finals. This time it was ten freakin' points! Well, maybe next year we will not only be better players, but hopefully we will have some luck on the field as well. But look at the bright side! The FL Charms finished at 16:th place totally out of 215 teams in division 2 in the Millennium Series.
Our shockers were amazing as always and the severe paint was so good. On Sunday evening we had a delicious dinner with Smart Parts bunch – Spesh and the Philly Americans, these guys are nice people 4 real!
Thanx to all the sponsors that made it possible: Smart parts, Severe, Maxs Sports,
NXe, JT and Bunkerking

Event Report Nordic Series # 4 (Flen Open – Flen)
Weather: Sunny at times, rainy at time
We had a great time in Flen. Our game plan worked out mighty fine, we were shooting some big ballz on the field. If we had 15 more seconds on the game against Hypnotize, which is one of the best teams in Sweden by the way, we would be through to the finals. Instead in this very defensive game, we got us a draw. Just as we shot their last guy, it was game over and we didn't hang the flag on time. Tough luck, but we are happy. It was fun to beat really good teams and among them was "finally" our brain ghost, Evil Swedes.

The X-ball games were also a real pleasure to watch. Watch and learn.
We also got in touch with other female paintballers so we are looking forward to arrange a girls-only-paintball-day.
So we will see ya at the Swedish Hype – the last but not least Nordic Series event.
Now we will focus on Nordic Challenge in Norway. Peace!
Tack Jon för all din hälp med du vet vad =) …..and of course thanx to our sponsors:
Nordic Series, Badass Sports, Paintballgården, Smart Parts, Severe, Maxs Sports, JT, Semcon, NXe, Bunkerking!

Event Report Millennium Series # 3 (7-man World Cup – France)

Weather: Wonderful & sweaty
Summer in France is fabulous; paintball in Toulouse is even more delicious, the taste of it is better than the croissants and the wines.
All these teams from different countries gathered at the same place and with one goal, to play as good paintball as they can. There were teams even from Iran for the first time and three all-girl teams. We had a tough time; we didn't manage to find our game style this tournament. But the atmosphere around us was extraordinary; we'll have to thank Laurent for sponsoring us and for arranging the 7-man World Cup. We will return next year with more meat on our legs as we say in Sweden =).

Thanks to the guys from www.adrenalinphotography.com for the pictures from Toulouse.
Last but not least a big thank you to Christian from Ugly Ducklings for your help after our little car accident. Emma couldn't have done it without you. ;-)
Sponsors to count on:
Smart Parts, Severe, Maxs, NXe, JT, Semcon, and our favourite French guy: Laurent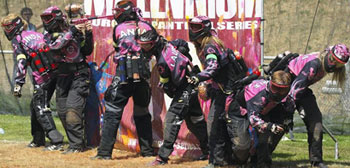 Event Report Nordic Series # 3 (Sniper Open - Norway)

Weather: Rain, wet girlz and boyz

Our game plan and paintball skills drowned in the rain this time. We didn't manage to win many games. It was not our turn to shine. The other teams played really well and the Charms went to practice the very next day....Everybody can have a bad-hair-day, wake up on the wrong side, this time it was our turn, so now it can only get better. At least our pretty shockers worked excellent in the rain and we can do better, we will prove it!
Thanx to our sponsors: Nordic Series, Badass Sports, Paintballgården, Smart Parts, Severe, Maxs, JT, Semcon, NXe, Bunkerking!
Event Report Millennium Series # 2 (Netherlands – Amsterdam)
Weather: Good paintball weather, otherwise cold…brrr…

Yes we are back from an amazing tournament in Amsterdam.
The girls rocked the house big time. The first game towards Scalps proved that the FL Charms was a hungry, aggressive team with a winner's instinct. We did eliminate 6 out of 7 of the French Scalps guys. The other games were similar, we won 5 games totally, but the other 5 games could have turned to our favour as well because it often ended up in a one-on-one situation.
One particular game that is worth naming is the catfight, mjau!
We guess this was the first game ever at the Millennium where two all girl teams faced each other on the 7-man field, now it was a 7-woman field for sure! FL Charms vs. Syndicatz, we were pretty nervous, we got to admit that; now we know how you guys feel like when you are up to meet girls on the field! We had to prove that we are the best all girl team there is, and certainly we did. The Syndicatz gave us a fight and succeeded to eliminate three of the FL Charms girls but still we had the game under control, the communication and the moves were working out perfectly. We are ready for more action, so Toulouse, watch out for the Girliez!

Our sponsors that we can't live without: Smart Parts, Severe, Maxs, NXe, JT, Bunkerking & Semcon. We love you! A special hug to Jay!
Event Report Nordic Series # 2 (Copenhagen Open - Denmark)

Weather: We were the lucky ones to have a sunny day on Sunday when we were playing.

Nine games, our pool looked tough but not impossible. We started off really good by winning our first three games in a row and took the lead. We even gave team Porn Kings some spanking and showed them who the Queens were (they finished 2nd place). The X-ball field was great and fun to play. Then a lightning hit us in the head cause we turned from being immortals to run straight into the mouse trap. We lost against good teams though like Hype (1st place). Respect. We'll get you some day!
We had tons of fun especially with our two new recruits (Linda and Laura) who made the tournament even more charming. Now we are warmed up to play our next millennium even DMA in Amsterdam…
A big thanx to our sponsors of course; Nordic Series, Badass Sports, Paintballgården, Smart Parts, Severe, NXe, BunkerKing. And thanks to Rene Winberg for the nice looking photos. :-)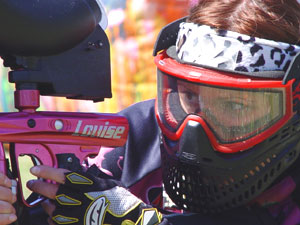 Event Report Millennium Series # 1 (Germany – Bitburg)
Weather: When we landed it snowed a little bit, but during the event it was wonderful.

A Norwegian team arranged transport for a couple of teams from Frankfurt to Bitburg, and this 2-hour long bus tour was a real party. Bitburger and Scandinavians together. Prost!
The fields were looking great especially the millennium field, it was cool. The first day didn't work out for us at all, only one win out of five games. It was tough to play against Hardcore and Syndicate the very first day, but we managed to get the record straight and played like we normally do the next day. 4 wins (actually 5) out of 10 weren't nearly enough to play in the finals. So next event we will be more aggressive and hungry (Sofia I don't mean food now).
But hey, we looked good in our new jerseys and new pink shockers! Thanx to all the sponsors: Smart parts, Severe, Maxs, NXe, JT and BK – you all make us better players!
Especially a big thank you to Phil from Smart Parts for arranging a tech course, and hey Dr. Phil (Emma is too strong, she's a f****** animal!).
See you all in Amsterdam, hugz and kisses!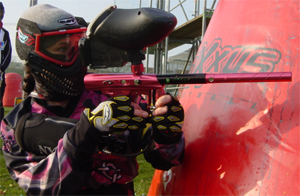 Event Report Nordic Series # 1 (Stockholm – Liljeholmen)
Weather: It didn't matter cause we played indoors.

One field, six charming girls, rocked the house big time. It was really fun and the first games were pure pleasure cause we won one game after another. We liked the fact that the teams could score extra points if they won the game within 2 minutes. And so we did. But then we don't understand what happened, we thought we were up for the finals but something went really crazy. We had 6 wins out of 8, but the sixth win was uncertain and we had to play it all over again. Gosh, we were a bit nervous, this was it. If we win, we play the finals; otherwise we could pack our stuff and go home. And home we went. So watch out, next Nordic in Copenhagen we will be in the finals!

Thanx to the sponsors Nordic Series, Badass Sports, Paintballgården, Smart Parts, Severe, Nxe!